SHEIKH FAZILATUNNESSA MUJIB MEMORIAL KPJ SPECIALIZED HOSPITAL & NURSING COLLEGE (SFMMKPJSH&NC) is being named after the Bangamata Sheikh Fazilatunnessa Mujib which is being established by the Father of the Nation Bangabandhu Sheikh Mujibur Rahman Memorial Trust. The hospital has its maximum capacity of 250 patients' beds is being operated by KPJ Healthcare Berhad , a renowned Malaysian Private Healthcare Organization. KPJ Healthcare Berhad currently has a chain of 26 hospitals within Malaysia and also present in Indonesia, Australia and Thailand.
Bangladesh And Malaysia Join venture Hospital
Excellent service under 1 roof
Qualified and experienced doctors
24 hours service
KPJ Healthcare's commitment towards excellence in healthcare will be in placed in SFMMKPJSH through innovative strategic approaches in developing high quality medical services and standards.
Departments
Our Other Departments
Why SFMMKPJSH
Know our Key Points
The Services We Offer
Get your service
FAQ, News And Event
Know our Activitys
Healthcare Video
Boost your knowledge
Diabetics talk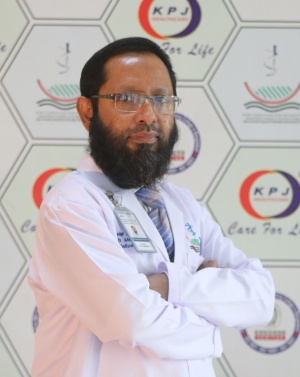 Consultant-Endocrinology and Diabetology
Endocrinology, Metabolic and Obesity
Success Stories
Know our success